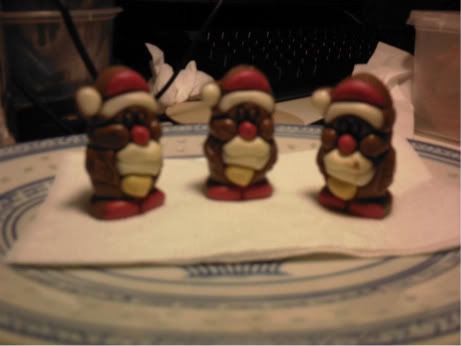 Unfortunately this is the only form of Santa that was present for my Christmas. However, I'm old(er) now hahaha so really, presents don't matter much to me. What mattered was that my family and I had a well-deserved night off work. This only occurs once per year on Christmas, hence being special.
The above Chocolate Santas traveled all the way in my luggage from the Blue Mountains. We've yet to eat them, but chocolate keeps, and they survived the Summer weather for this long, so I'm sure they can handle waiting a little longer. I'll give you the verdict later.
I didn't go completely without gifts. I received a nice hand cream from my friend as part of Secret Santa/Kris Kringle, and another friend dropped by unexpectedly on Christmas Eve. Thus, her gift, holds an extra nice meaning to me. For the curious, it's a pair of red sunglasses. Perhaps I'll take a pic later, although they're not really my style, but that doesn't matter. The Boy is also bringing me something from Malaysia when he comes back in the New Year. So really, I'm lucky, and have a lot to be thankful for.
Tomorrow we're planning to check out the shops. I woke up at 2:15pm today and don't regret it at all. The Boxing Day Sales just don't appeal to me in their craziness. My dad did ask me if I wanted to check them out (ie. the City Myer, which opened at 5am...), but even though shopping is one of my weaknesses, I draw the line at that.
What did you guys get for Christmas this year? And are any of you planning to brave the post-Christmas sales?