Gosh guys, I think I need to be institutionalised. My mind is manic for shopping, and boy, are the end of year sales not helping.
I should be good considering The Boy has just told me he's spent his last shopping day in Malaysia buying things for me. I'm spoilt, I know, but I can't help scoping out the online sales and wanting to be let loose! I've actually gathered a few of my "picks" and am planning to post it later in another entry because now I'm going to subject you to my Boxing Day splurge — purchases from the bookdepository!
It's been ages since I've bought myself books. In fact I can't remember the last book I've purchased. Don't get me wrong, I love going into book stores and drool over them as much as I do clothing, but for some reason I've not walked out with a book besides textbooks... I think it's got to do with the prices and the fact that my shallowness has meant that the opportunity cost of books is too high when I could get a shirt/skirt/dress for the same price instead...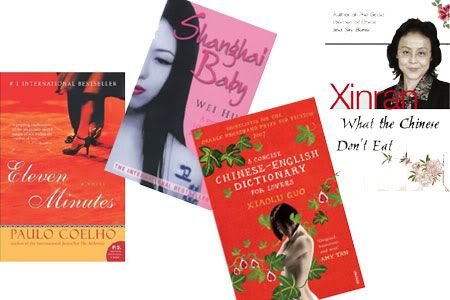 To prove my point, let's get to the nitty gritty and compare prices before I get to the lovely part where I ramble on in anticipation for their arrival.
Notes: I may not have picked the same editions for book comparisons as it wasn't possible for all, but I did pick the cheapest option for each. All prices are in Australian dollars. Book title links lead to book reviews.
Difference, much? Altogether my brother and I got 5 books each (I also bought my first moleskine) for $132.20. That's an average of $13.22 per book, which is pretty good, although it's actually less if we discount my large moleskine (~$18.00 — still at least $6.00 cheaper than here!).
Can you see a pattern in my book consumption? Lately I've been taken with Chinese literature whether it be originally an English text or translated. I found a book in my university library before final exams, which was a collection of translated short stories by authors in Hong Kong, Taiwan, Singapore and Mainland China. Of course I snapped it up — study time well spent. Later on after exams, I was waiting for The Boy who was running late due to a communication mishap, and wandered into Dymocks where I discovered
A Concise Chinese-English Dictionary for Lovers
, but couldn't afford it at the time (and price). I've been aching to get my hands on it since then and cannot believe I didn't think this genre existed!
I'm really excited as it's opening new paths for me. I've been thinking about this direction a lot now, especially if I get accepted back into the Communications degree because this is something I could work with. Something I'm interested in and I can hopefully develop into my strength and area of study. This is something I can do! It's something that I love, being books and culture, as well as serving to help me understand my own culture and history better, which in turn allows for further self development. Can't go wrong, right?
Lastly, I stumbled across
Asian Review of Books
, which is now my go-to for when I need a new book! It also led me to
the Department of English, City University of Hong Kong
, which I'm going to look into for a possible exchange. Hello, new opportunities and goals!