I started composing this entry on notepad (♥) sometime after 2am, but got distracted by The Boy on MSN, so here it is in all it's lateness.
Dear Santa,
So it's probably too late for this, since it's Christmas Eve and all, and if there's something Christmas movies have taught us — being the age of superficiality and Hollywood — it's that Santa's countdown preparations are in full swing; no time for late wish lists like mine.
But that's okay, this year has already given me plenty to be thankful for. Yet here I am with a wish list that's long overdue, just to, you know, keep in the spirit of the season. With less than 24 hours to go, I may as well play it up and go by the list's literal meaning.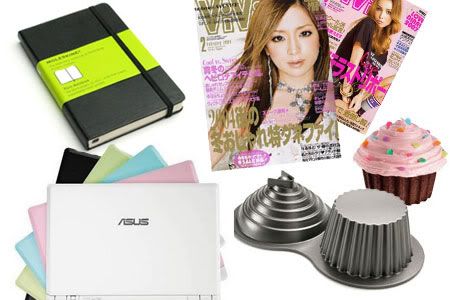 0. Acceptance — Secretly, what I want most... I hate conflict. I suck at dealing with it, so really, what I want most is acceptance of my decision, if not acceptance of my mister by my family.

1. $$$ — Okay, don't we all? But I'd really love some cash to splurge on updating my wardrobe...

2. An Asus Eee PC or equivalent notebook — Since I've decided to return to Communications *knocks wood*, this would really come in handy. Not that there's anything wrong with my current laptop, but the portability of a 10" notebook > 15", which is much too heavy for me to bother with. Studying would be much more efficient. I could type up notes or blog entries on the train (okay, on off-peak commutes), in lectures, in tutorials, in the library, in cafes... the possibilities are endless. It would save me a lot of effort given the heavy research/note-taking nature of the subject.

3. Moleskines or substitute — Especially important if 10" notebook is but a pipe dream. One for absolutely everything, one for occasion, and one to turn into my Adventure Book (courtesy of Up, so three at least?

4. Baking Stuff — Let's start with the practical. I'd love some new baking trays, particularly a proper, flat cookie tray as I don't have any... I'd adore a couple of novelty trays, especially the Wilton 'Cookie' cake pan, the Wilton 'Cupcake' cake pan, and most realistically Willow sillicone heart shaped muffin/cupcake tray. Also affordable, and thus realistic, cute cookie cutters. Less affordable, a kitchen scale and a new temperature accurate oven...

5. A Holiday — This originally was a higher priority for two reasons. One, because I really wanted to be with the Boy, but now there's a little over a week until I see him and whilst I'd still like to be with him over there, it's really better to just let live.

More minor things include a subscription to the Japanese magazine Vivi (best fashion mag ever), bras by Chloe and Lola Lingerie (best fit ever), Onitsuka Tiger Sneakers, boots, casual shoes, a domain, a new bag for uni, new books to read, Cantonese lessons, a gym pass, new perfume (mine's running out) and the perfect sunglasses that I've yet to find.

I'm off now to (re)watch
Ponyo
with my bro, so
Happy Holidays to you all ♥
I leave you with these Chocolate Chip Cookies I made because I'm too old to leave them out for Santa.